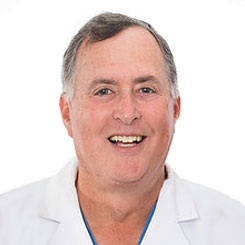 Dr. Richard Robinson founded Greystone OB/GYN in 1996.
Dr. Robinson was instrumental in developing Greystone's Laborist program. This program maintains a Greystone physician and midwife on duty at Piedmont Rockdale Hospital around the clock to increase safety for pregnant women delivering there. He has a special interest and expertise in outpatient minimally invasive laparoscopic surgery.
Dr. Robinson actively supports Project Renewal, a battered women's shelter, and Phoenix Pass, an organization giving homeless women and their children an opportunity to reestablish self-sufficiency. He also serves on the Kimberley Chance Atkins Foundation, a local foundation assisting women in this community with breast cancer screening and diagnosis. Dr. Robinson is a past chairman and continued supporter of the March of Dimes campaign in Rockdale, Newton, and Walton counties to promote the birth of healthy babies.
Away from medicine, Dr. Robinson enjoys traveling around the United States, playing golf, and reading. He and his wife have a very spoiled Parson-Russell Terrier named Piper.
Education
Residency: The Medical College of Ohio
Doctor of Medicine: The University of Tennessee Memphis
Bachelor's Degree: Georgetown University
Certification & Memberships
Board Certification: American Board of Obstetrics & Gynecology
Fellow: The American College of Obstetricians and Gynecologists
Member: Medical Association of Georgia